Stratham, New Hampshire, May 6, 2021 - /CSRwire/ - Timberland has reached an important milestone in its five-year journey to re-introduce cotton growing in Haiti in partnership with the Smallholder Farmers Alliance (SFA), with the launch of new footwear made with Community CottonTM fiber. This journey began in 2016 with a goal to create a new supply chain for sustainable cotton, while at the same time advancing the reforestation of Haiti and improving farmers' lives.
"Five years ago, Timberland set out with a vision to bring cotton farming back to Haiti after a 30-year hiatus. Today, we are incredibly proud to have a new source of responsibly-grown cotton. We branded it Community Cotton, because the agroforestry model plants trees, increases farm productivity, and enhances farmers' incomes and lives," said Atlanta McIlwraith, director of global community engagement and activation for Timberland. "We are honored to work alongside the Smallholder Farmers Alliance on this program that advances all three of Timberland's CSR priorities: to create better product, stronger communities and a greener world."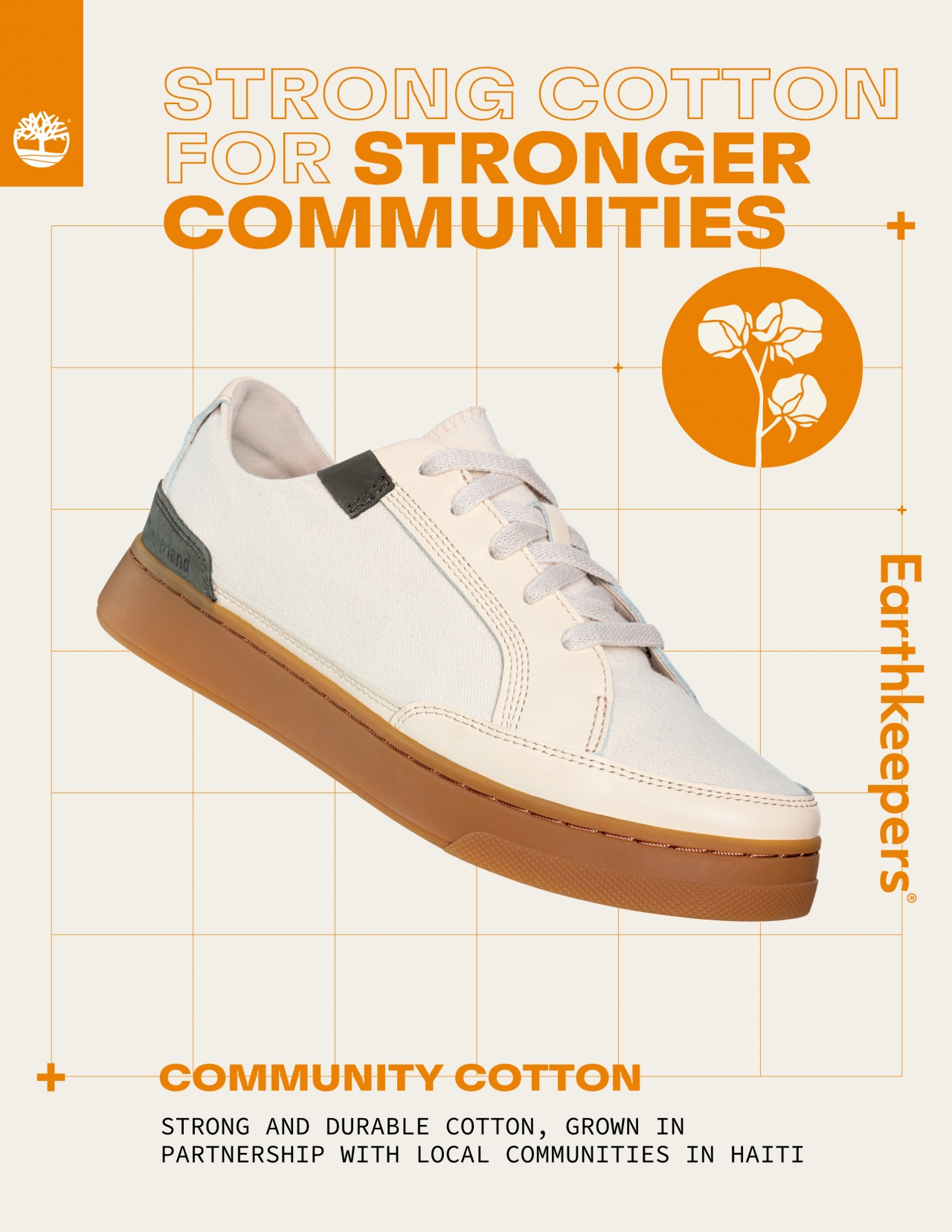 Timberland rolls out its first products using Community CottonTM fiber beginning May 6 as part of its Spring 2021 collection. Styles include the women's Atlanta Green EK+ Sneakers, men's TrueCloudTM EK+ Sneakers and Caswell EK+ Bags. The EK+ nomenclature indicates that these are Earthkeepers(r) Edition styles, representing Timberland's pinnacle eco-innovations.
Timberland first partnered with SFA in 2010 to plant five million trees in five years in Haiti. To fulfill that commitment, the SFA created its Tree Currency agroforestry model to engage smallholder farmers to grow, transplant and care for trees. In exchange for their time working in tree nurseries, participating farmers earn credits they can exchange for better quality seeds, hand tools and agricultural training. After a few years, the list of redeemable benefits grew to include literacy programs, microcredit services, livestock and more services the farmers requested.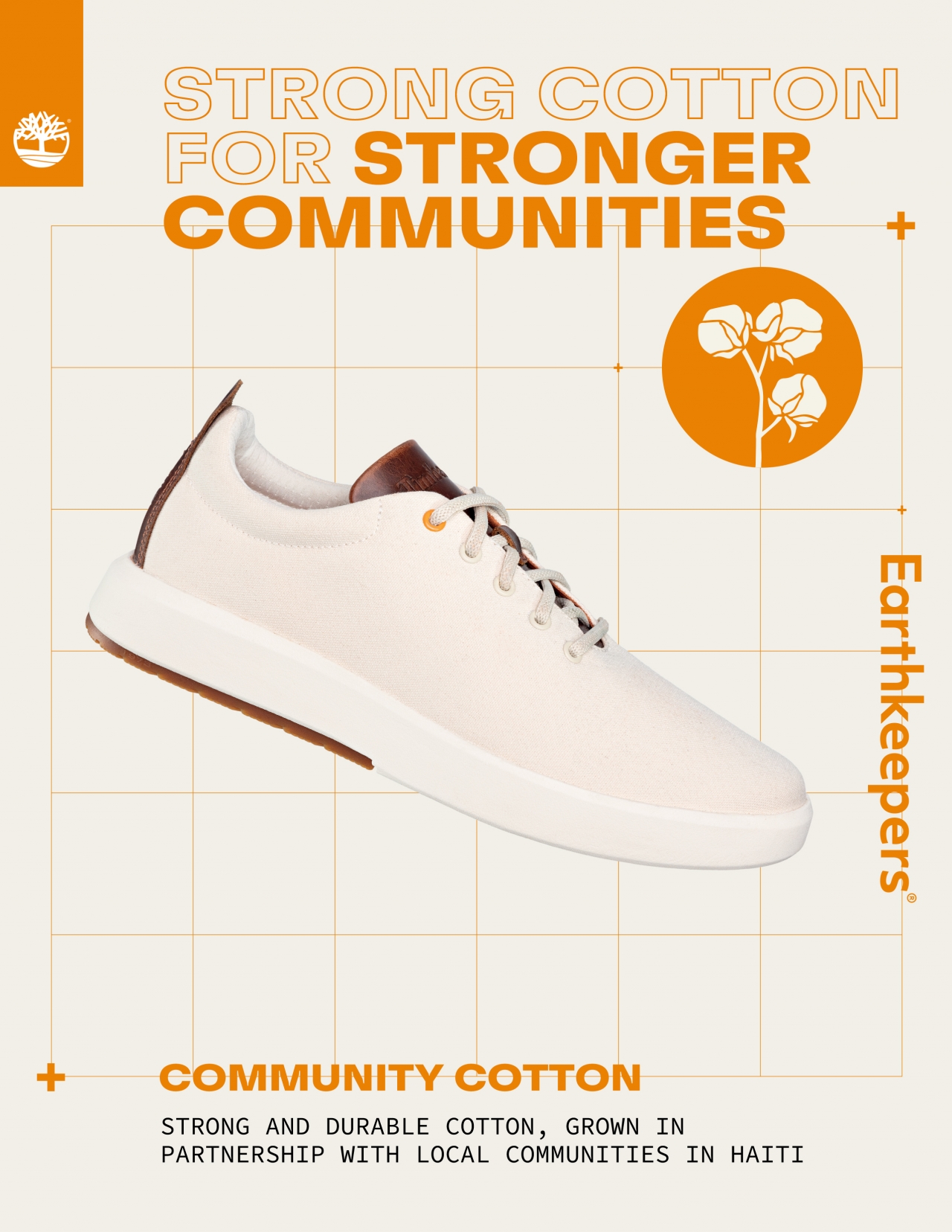 By the end of five years, not only had SFA planted five million trees, but they had also delivered significant benefits to the farmers. On average, the 6,000 SFA farmers engaged in the program saw a 40% increase in their crop yields and a 50% to 100% increase in their incomes, which enabled them to send 3,400 more children to school. Encouraged by these results, Timberland decided to explore cotton as a crop that farmers could grow and the brand could use in its products - evolving from a supporter of the Haitian smallholder farming community to a customer.
This new cotton supply chain is open to other brands and industries, not just Timberland, to expand the opportunity and ensure diversification for the farmers.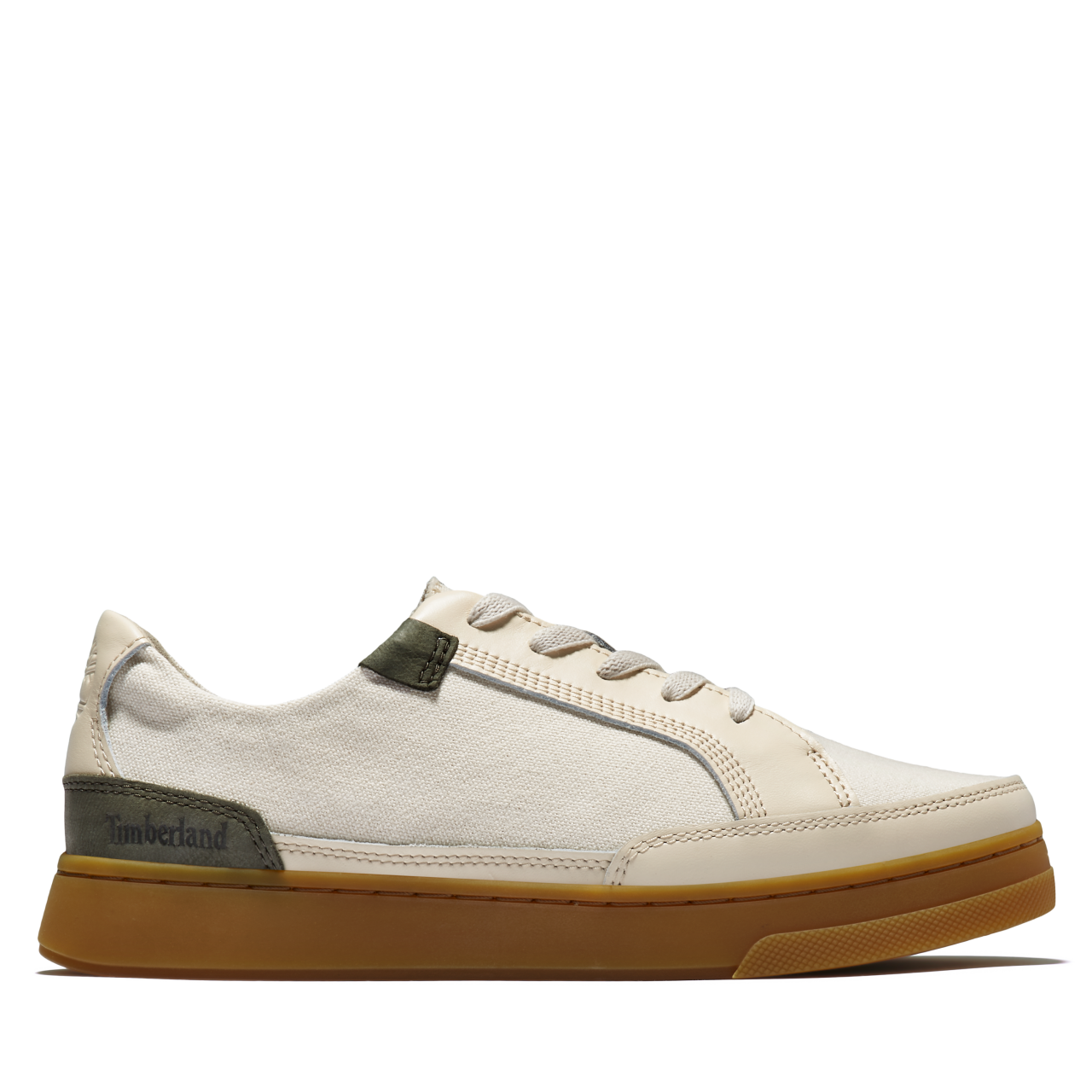 Noteworthy milestones on Timberland's Haiti cotton journey include:
In 2016, Timberland invested in a feasibility study to explore cotton's return to Haiti after a 30-year hiatus. The study confirmed feasibility, so they proceeded.
In 2017 the SFA conducted field trials of different varieties of cotton to determine which would fare the best.
In August of 2018, one hundred farmers planted the leading varieties of cotton and in January of 2019, Timberland participated in Haiti's first commercial cotton harvest since the late 1980s.
In 2019, 225 farmers planted cotton and the program intends to scale over the coming years to eventually engage as many as 10,000 farmers - all of whom participate in the tree planting program and earn access to seeds, tools, training and more to increase their yields and incomes.
Also in 2019, the SFA acquired a mobile cotton gin to process the first crops. A full size gin is due to arrive in Haiti by the end of this year, allowing the SFA to scale operations.
In 2020, the SFA designed a mobile app for its agronomists to use with farmers to track crop inputs, yields, organic and regenerative practices, as well as measure the socio-economic benefits of the farmers' participation in the program. The resulting Smallholder Data Services (SDS) app and platform, which incorporates the Lydion Data Economics Operating System (DEOS), will be pilot tested in 2021 and will enable Timberland to trace the cotton in its products back to the farmers who grew it.
Timberland also recently pledged to plant 50 million trees worldwide by 2025. The SFA will plant 25 million of the committed trees in Haiti as part of this effort.
To learn about Timberland's commitment to build better products, stronger communities and a greener world, visit the brand's Responsibility site.
About Timberland
Timberland is a global outdoor work and lifestyle brand that's on a mission to equip and inspire a new generation to step outside and move the world forward. Based in Stratham, New Hampshire, Timberland also has international headquarters in Switzerland and Shanghai. Best known for its original yellow work boot introduced in 1973 to take on the harsh elements of New England, Timberland today offers a full range of footwear, apparel and accessories made with eco-conscious innovation for people who share the brand's passion for enjoying - and protecting - Nature.
At the heart of the Timberland(r) brand is the core belief that a greener future is a better future. This comes to life through a decades-long commitment to make products responsibly, protect the outdoors, and strengthen communities around the world. The brand has committed to plant 50 million trees worldwide by 2025, and has a bold vision for its products to have a net positive impact on Nature by 2030, giving back more than they take. To share in Timberland's mission to step outside, work together and move the world forward, visit a Timberland(r) store, timberland.com or follow @timberland or @timberlandpro. Timberland is a VF Corporation brand.
About Smallholder Farmers Alliance
The Smallholder Farmers Alliance (SFA) is a Haitian non-profit organization that applies business solutions to help feed and reforest a renewed Haiti by establishing market-based farmer cooperatives, building agricultural export markets, creating rural farm businesses and contributing to community development. For more information visit www.smallholderfarmersalliance.org.
About The Data Economics Company and the Lydion Engine:
The Data Economics Company (DECO) has developed the Lydion® Engine, the Operating System for Web3. The Lydion Engine powers decentralized applications to solve complex, large-scale problems and generate new revenue streams for people and companies by converting their data into valuable digital assets—structured as NFTs—that can be monetized, shared, and transacted using secure, private Lydion Data Vaults and Networks (DENETs) without requiring underlying cryptocurrencies. DECO's mission is to pioneer and propagate the field of Data Economics by leading scientific research in the field of Data Economics, building a toolset to enable a wide array of distributed applications via the Lydion Engine, and creating a global ecosystem of partners to advance Data Economics as an applied science. More information about DECO and the Lydion DEOS can be found at lydion.com.